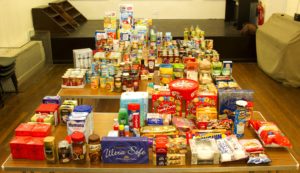 Egglescliffe Area Residents Association (EARA) are seeking support from the community, businesses and local schools to donate food and other appropriate items for a local food bank in the Borough of Stockton.
The Salvation Army , based in Stockton-on-Tees, support many people facing tremendous hardship and who struggle to put food on the table for themselves and their families at this festive time of year. When you donate food to the Salvation Army, you are helping to provide one of life's most basic necessities to those in need, particularly children who suffer the most when household budgets don't stretch far enough.
EARA will be collecting donations from the local community between 1pm and 5pm on Thursday 28th November 2019. Donations can be dropped off at Egglescliffe Parish Hall, Butts Lane, Egglescliffe, from where they will be delivered to the Salvation Army.
Having previously spoken to the Salvation Army about the types of items they would like donating, it is clear they would like non-perishable foods such tins of meat and fruit, long-life milk, cereals, sauces, canned and dry soups, baking mixes that require only water and spices.
If you are able to support this worthwhile event, please call along to the parish hall where EARA staff will gratefully accept your donation. We undertook a similar event last year and the support we received from residents was tremendous.
We look forward to seeing you.